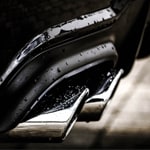 A leak in your exhaust system can be dangerous to you and your loved ones. For this reason, the team at Land Rover Fort Wayne wants to make sure you know what the signs of this problem are. If you are experiencing any of the following, be sure to schedule an appointment with our service team right away.
The first thing to watch out for is a loud noise coming from the engine when you start your car. This typically indicates an exhaust manifold gasket leak. A vibrating gas pedal is the next thing to watch out for. The more the pedal is vibrating, the more significant the leak likely will be.
A leak in the exhaust system will reduce the efficiency of your vehicle, resulting in more frequent trips to the gas stations around Fort Wayne, IN. If you are smelling gas or any other unusual odor in the cabin of your car, it needs to be looked at right away.