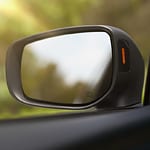 Our inventory at Land Rover Fort Wayne is stacked with smart vehicles that have advanced features. If you're shopping for a vehicle in Fort Wayne, IN, and you want superior safety, you should consider getting a vehicle with driver-assist features. A blind-spot monitor is a safety feature that helps you stay aware of vehicles that are in your blind spots.
A blind-spot monitor is a driver-assist technology that's usually standard or available with higher trims, but there are some base and mid-level trims that offer this feature. A blind-spot monitor scans the road with radar-based sensors and cameras to detect vehicles that are entering your blind spots. When one is detected, the driver receives a warning.
The alert will continue to warn the driver until the vehicle has moved out of the blind spot. A blind-spot monitor can issue alerts via audible or visual warnings. Visual alerts may appear on the driver display or side-view mirror, and audible alerts are typically chimes, rings, or beeps.