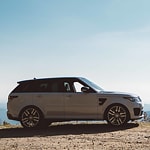 At Land Rover Fort Wayne, our team believes that great technology is an essential part of modern vehicles. If you agree, we're thrilled to offer the Land Rover Range Rover. This popular luxury SUV comes with a huge variety of tech features, each designed to improve your ride.
With the Range Rover, you never need to take your eyes off of the road to make a call or adjust your sound system. That's thanks to the voice-recognition system. All you need to do is tell the SUV what you want to do, and it does it for you.
Do you want to use your phone in the car? Do it safely with the Range Rover's Android Auto and Apple CarPlay system, which integrates with the in-car display. By using these technologies, you can operate your phone through the car. Find out how easy it is to use by coming to our Fort Wayne location to go for a test drive.