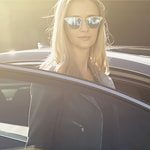 At Land Rover Fort Wayne in Fort Wayne, IN, we love giving tips about reducing glare to our community. We must be all safe as we drive in the area. Whether you are affected by night glare or daytime glare, you must find ideas to increase your visibility as you drive.
The first thing we like to start with is telling our community to keep the windshield clean. If you have a dirty windshield, especially on the interior, then it can increase the glare exceptionally. Also, if you find damage on your windshield, it is important to take care of it right away, so it doesn't increase the glare.
If you have any items on your — or hanging from your rear-view mirror, it is important to take them down and store them to have visibility as high as possible. Nighttime glare from oncoming traffic could be fixed with anti-glare glasses. You can also use your peripheral vision to reduce the glare until the vehicle has passed you.