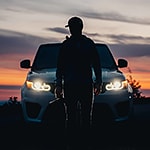 Out of all the SUV brands that are in society today, there's one that stands out from the pack. Range Rover is a name that speaks volumes because this automaker possesses prestige and plenty of respect.
When it comes to popular SUVs, Range Rover outclasses the competition. These particular SUVs are advanced beyond belief thanks to all of the innovations that are neatly crammed into the system. Range Rover SUVs are smartphone compatible thanks to the integrated features of Android Auto, and iPhone users can fully utilize the available Apple CarPlay technology. The beat doesn't stop as Range Rover utilizes an impressive audio system that's premium. Meridian is the weapon of choice, and this 13-speaker system produces concert-like sound quality. On top of that, Range Rover offers door-to-door navigation, Optimized LR Assistance applications and a Driver Assist Pack of advanced safety features.
Come in today for a free test drive, and we'll promise you a thrilling experience.