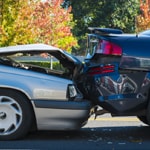 When you're involved in a collision on the road in Fort Wayne, IN, it's important to check to see that everyone in each car is safe, or you'll need to call an ambulance to ensure they get medical attention. Get your driver's license out and exchange it with the other driver, as well as your plate number and insurance information.
Get your camera out and start taking pictures of the damage, which you can hand over to the insurance company to ensure they can do an investigation. This will allow the insurance company to determine who is at fault for the accident. Avoid taking the blame or admitting that you caused the accident. This may not be true, making it necessary to leave it to the insurance companies.
You can also contact the police to file a police report. This is a more formal way of responding to the accident to ensure they can collect additional information. For any additional tips contact our team here at Land Rover Fort Wayne.