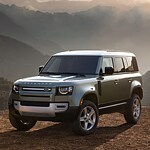 Land Rover is known for its quality vehicles that can handle a wide variety of terrain. The Land Rover Defender is no different. It's a modern SUV that looks upscale and can be totally comfortable even when the conditions aren't ideal. We're pleased that this model is part of our lineup at Land Rover Fort Wayne.
It probably comes as no surprise that the Land Rover Defender is equipped with four-wheel drive. Plus, it has locking differentials that can prove to be very useful if you ever have to deal with rough trails around Fort Wayne, IN.
The standard engine is equipped with a turbocharger, and it works together with an eight-speed automatic transmission. This turbo engine can make 296 horsepower and 295 pound-feet of torque. There are several other options, too. You might opt for the 395-horsepower, 3.0-liter engine that has a mild hybrid system, or you could get the supercharged, 5.0-liter V8. It's really impressive, delivering 518 horsepower.