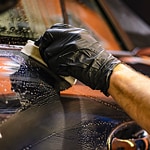 Sometimes it's the little things that matter, and if you're ready to detail your car, check out these tips from us at Land Rover Fort Wayne in Fort Wayne, IN. We can help you clean your windows better and get that dust out of the vents.
If you've always hated that line of dirt and grease along the top edges of your windows, take some window cleaner after you wash your car's exterior. This little detail brings the level of cleanliness closer to the beautifully sparkling windows that you see on car lots.
Also, take some time to clean out the dust from the vent with a small painter's brush that's coated with furniture polish. The small hairs on the brush can reach inside the vent, and the polish is sticky, so it will pick up the dust instead of just pushing it around. Use a rag in between vents to wipe the brush off.