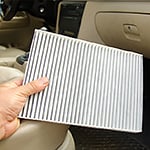 If you feel like your car's air quality is suffering as of late, you might want to take a look into your cabin and engine air filters. Land Rover Fort Wayne is going to share the important details you need to maintain these functions while driving in Fort Wayne, IN.
Before we get into maintenance, it helps to know what each one of these filters does in your car. In order to provide clean air in your interior environment, cabin air filters prevent harmful materials from circulating in your heating and cooling systems. Engine air filters work on providing clean engine systems, preventing external debris from obstructing performance.
Each one of your filters has a life cycle that you should carefully monitor. Both cabin and engine air filters have an average maximum lifespan of 30,000 miles. If you want a more accurate estimate, consult your owner's manual. You might also want to consult a local mechanic if you drive in harsher environments.