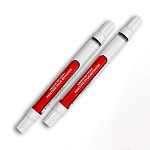 Touch-up paint is a lifesaver when it comes to repairing small scratches and blemishes on your car. It can be difficult to find the right color match, but with this guide from our team at Land Rover Fort Wayne in Fort Wayne, IN, you can do it yourself!
Color matching is the most important step in applying touch-up paint. You will need to find a color that closely resembles the color of your car. The best way to do this is to take a sample of the original paint and bring it to a local auto parts store. They will be able to match the color for you.
Once you have the right color, it's time to start painting! Begin by cleaning the area around the scratch or blemish. This will help the paint adhere better. Next, apply a thin layer of paint to the area. Be sure to use even strokes and avoid getting paint on surrounding areas.